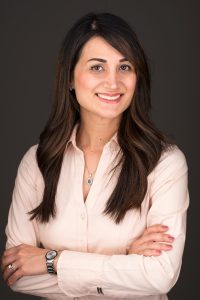 Dr. Golnaz Kavand obtained her Doctor of Medicine in Dentistry from Boston University with High Honors. Following that, she moved to the Midwest and obtained a Master of Science in Dentistry and a clinical certificate in Orthodontics from Indiana University. During residency, Dr. Kavand studied the impact of palatal expansion on upper airway volume and published the results of her study in the prestigious journal, The Angle Orthodontist. In addition, Dr. Kavand has a Master's in Dental Public Health from The University of Iowa, with a focus on the dental esthetic perception in young adolescents and their parents.
Dr. Kavand has worked in multiple private practices in Ohio and Southern California and is excited to bring her expertise to serve patients in the Bay Area. Dr. Kavand is a diplomate of the American Board of Orthodontics and an active member of both the American and the California Association of Orthodontists.
Outside of the office, Dr. Kavand likes to try new recipes in the kitchen, practice yoga, and explore the Bay Area with her husband.